Meryl Johnson: Visionary, Marketing and Media Maven, and Mogul in the Making
"I think as women, it's important to train ourselves to pursue at least one thing in our lives that goes against the status quo. We grow up with people telling us what we are not supposed to do, I just choose to say 'f*ck dat'." – Meryl Johnson
As an award winning digital marketer, Meryl Johnson, has developed digital, social, and experiential (interactive, experience based) marketing campaigns and strategies for some of the biggest companies in music, film, TV and radio. She's currently the Director of Digital Strategy for Country Music Association (CMA), and previously held the position of Director of Digital Worldwide Theatrical Marketing at Warner Bros. With previous affiliations with Focus Features, NBC Universal, Clear Channel Broadcasting, and Cumulus Broadcasting, there aren't many facets of the entertainment industry Meryl hasn't touched.
Currently developing and managing CMA's digital presence , Meryl devises digital marketing opportunities that drive awareness and increase visibility and engagement for the company's industry initiatives, properties and live events. While at Warner Brothers, she managed a team responsible for constructing digital marketing campaigns for new theatrical releases such as: "The Conjuring," "Hangover III," "Edge of Tomorrow," "Get Hard," "Entourage Movie," "Mad Max: Fury Road," "The Gallows," "Vacation," "Black Mass," "Batman v. Superman," and more. In 2017, she founded her own company, Happy Balance Digital, LLC, dedicated to educating small businesses and nonprofit organizations in digital strategy campaign development and connecting them to low cost resources that can assist in their digital marketing efforts. Meryl is also one of the founders of Conscious Conversation.
Through happenstance, I met Meryl a couple years ago at a friend's birthday. During a somewhat brief conversation, I learned she was friendly, approachable, and impressive by her drive, work history in the entertainment industry, the fact that she was an African American woman making boss moves at CMA, and doing it all while a single mom. Given her background and after being inspired at one of her recent presentations, I reached out to see if the visionary would be open to being featured in this series.
Meryl, thanks for allowing me to feature you. In your field of work, I can imagine there's increased pressure to look or dress a certain way. How do you balance industry expectations with your personal style?
I have actually been lucky enough to work in a relaxed industry when it comes to any kind of dress code. The most I have had to really establish is a cool business casual vibe. The LA film industry is drastically different than Nashville's music industry. So, I've had to adapt, but at the same time I've grown into my own, and I just wear what makes me feel comfortable. I went from an interesting mix of high end California business casual chic to pretty casual at CMA. I have a dress code that I follow now that can fit into most scenarios. T-shirt, jeans, boots, maybe I throw on a blazer, sweater, scarf to dress it up a touch. I think I convey a pretty high level of confidence, and I've been told that I'm a bit intimidating. So, I walk into a room with my fro and my tattoos and can talk to a CEO, manager, filmmaker, musician, etc. without feeling like I have to dress up or be someone I'm not. At this stage of my career, either you accept me for me or you don't. If you don't, probably not someplace I want to work.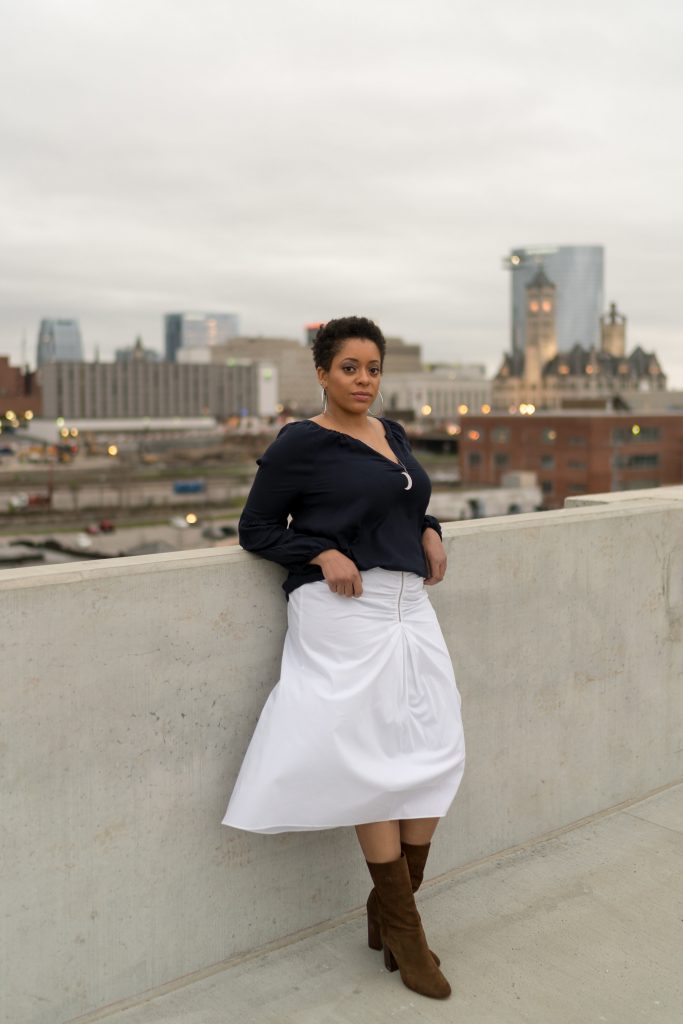 Men often have confidence to naturally see themselves in powerful positions. Did you grow up knowing you would work for Warner Brothers, NBC or Clear Channel and eventually go on to be the Director of Digital Strategy for CMA?
I knew I wanted to do things that traditionally I was told I couldn't do or didn't make sense to anyone else. But, I've known I wanted to be in entertainment since I was in elementary school. I loved movies and theater, so it just seemed like a good fit. But, the trajectory I followed starting in my 20's, I had no idea where that would lead me. I had been in marketing/promotions and on the radio at Cumulus (92Q and 106.7) here in Nashville before leaving, and I found a love for that career path. But, I went out to LA with the purpose of being in the film industry. At Clear Channel, I discovered digital media. This was back in 2006, at the very start of digital becoming a more viable, lucrative industry and value for businesses. Everyone was trying to figure it out, and I saw the vision of where it was going. It also gave me a way to let my inner geek fly free and have a fun career. I pursued and was blessed enough to interview with some former bosses who really believed in my potential. I think if I had not had gone to LA, I may not have had the confidence to pursue CMA when I was ready to come back to Nashville. It was challenging, especially as a black woman. A multi-layered challenge that I felt like I had to conquer. It was there that I made the choice to always be myself, and it worked to my benefit. It groomed me to really be comfortable in my confidence. Plus, I am also a type A personality and pretty ambitious individual, once the light bulb went off, there was no going back. I think as women, it's important to train ourselves to pursue at least one thing in our lives that goes against the status quo. We grow up with people telling us what we are not supposed to do, I just choose to say "f*ck dat".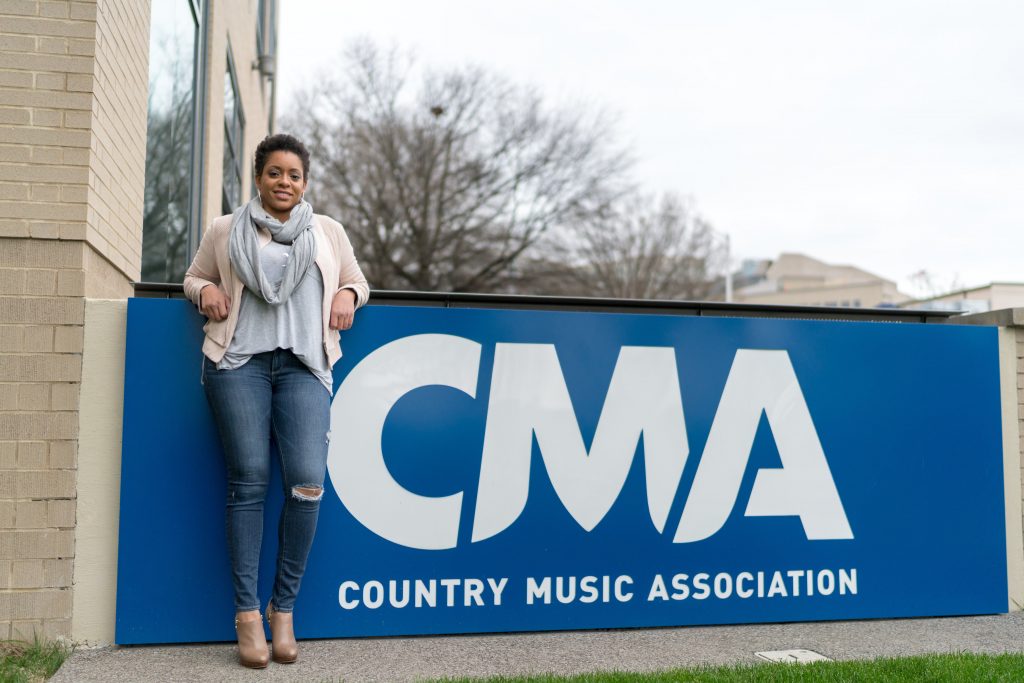 You've worked for major companies in music, film, tv, and radio. Although marketing seems to be a profession more open and accepting of women, my guess is that with an increased presence of digital and tech in marketing there are still challenges for women in your profession. With that said, what's one obstacle you've encountered in your career due to gender, and how were you able to overcome it?
Yes, quite a few challenges and digital and tech marketing are still heavily male-dominated industries. Sitting in a room feeling like you have to prove yourself is a regular thing. Interestingly enough, most of my male superiors have been my biggest champions. The biggest challenges I have faced have come from other women, which is unfortunate. In a corporate tech environment, especially in entertainment, you have to really prove yourself. Being a woman just adds that extra layer. The ambitious ones are all vying for that coveted promotion and leadership position. So, you get a few of those in a room together, there is bound to be a bit of pettiness on deck. The biggest obstacle was in LA and I had a female supervisor who did everything in her power to keep me from having a voice. When she wasn't shutting me down in meetings, she was taking my ideas and pitching them as if they were hers. So, I found a better job and left. I made it a point to not stay in a situation where I wasn't valued and with a boss who was frankly insecure and go somewhere that was a better fit. It was the best decision of my life. I made more money, I had really supportive leadership, I was able to grow and work on some pretty amazing movies. You can't change anything you are unable to control, you can only change the way you react to the situation. Sometimes the best defense is not allowing someone to steal your power and knowing your worth.
What's the importance of personal and professional branding?
It's a combination of establishing a defined point of view and giving people insight into what they are getting before you walk into a room. Your biggest attraction, and I don't mean sexually but just your energy, can be the personal and professional brand you establish. I think it makes people more comfortable and confident in wanting to either know you or develop business opportunities. They have a sense of who they could be working with eventually, and they like what they see.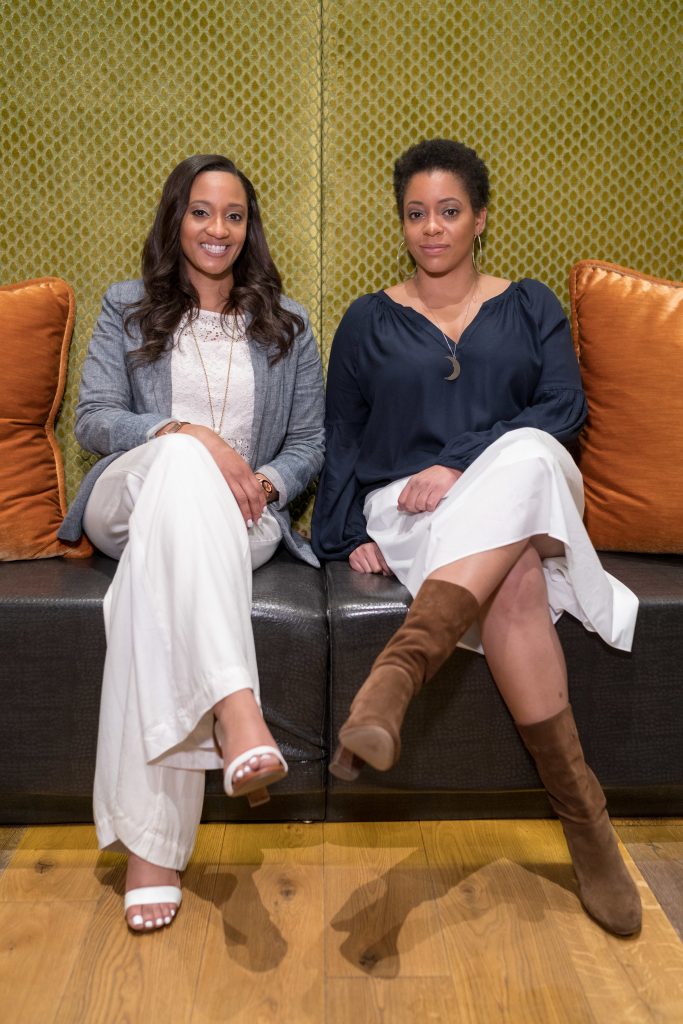 Power suits are currently trending in fashion. Although suits may or may not be your style, what article of clothing makes you feel most confident?
Oh, I love a good power suit! Especially when it's a little androgynous. In the past on my feeling skinny days, I would rock a good fitted suit with a men's tie and work my hair into kind of a funky faux mohawk style. But usually it's a v-neck t-shirt. You can never go wrong, especially when you're a little heavy up top.
If you could give one piece of advice to your 18-year-old self, what would it be?
Don't ever allow yourself to let a man define your self-confidence.
Audrey Hepburn once said, "as you grow older, you realize you have two hands: one for helping yourself, the other for helping others." Have there been women who have mentored you throughout your career, and what are your thoughts on mentoring others?
At various stages of my career I have been mentored directly or indirectly by women. Most currently, Angela Jones, at Nashville Business Incubation Center, is evolving into a mentor, especially as I build out my business. I think mentoring is valuable to developing a female community of leaders. Women are so powerful, and there are a lot of women whose power is not cultivated because they didn't have someone to help support their efforts. It could be as simple as lending an ear. I think it's one of the most beneficial things you could do as a woman. I try to extend some form of mentoring in workplace, social and networking environments, so I look forward to developing a deeper mentor/mentee relationship with future female leaders.
Is there anything else you want readers to know?
Fear is the scourge of any growth and challenge you pursue or fail to pursue because you let it overcome your potential for greater blessings. I let go of fear and started a business called Happy Balance Digital. I created it to educate small businesses and nonprofit organizations in digital marketing strategy development. I have discovered so much about myself through this process and every day I want to quit because I'm tired, I'm a single mother, I have a full-time job, and I will admit I a little afraid. But, then I get my second wind and realize that the exhaustion is amplified because of the fear, and the fear is just a construct of my ego concerned about failure. So, don't let fear keep you from achieving greatness. Even if you fail, define yourself by your perseverance, not your teaching moment.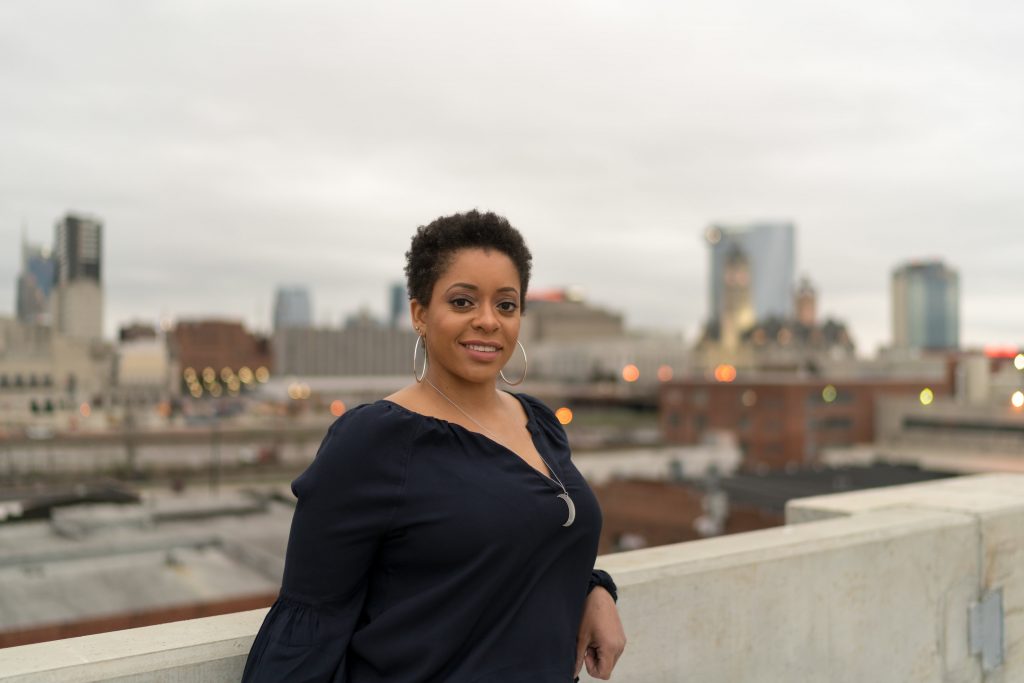 How can people reach you?
They can visit my website http://happybalancedigital.com to sign up for updates. Or check out one of our Conscious Conversation panels throughout the year. My co-founders, Isaac Addae, Jarrett Strickland and I always welcome new faces to lend to the discussion. The next one about Nashville Transit is April 12th at the Northwest Family YMCA. Visit http://www.consciousconversation.co/ for more information.
Thanks to Meryl Johnson for allowing me to feature her. Thank you for reading. I would love to hear your thoughts. Please leave a comment below.