Hotel Accommodations That Inspire
Although there are tons of ways to save money when traveling, trips can still be super expensive. And when looking to cut cost, the caliber of the hotel may be one of the first things to go. Who's planning to spend that much time at the hotel anyway, right? But before you go off compromising the quality of your hotel accommodations to preserve cost, I'd like to tell you why the quality of your hotel should be one of the last things to cut.
A perfect example was my recent stay at the W Dallas Victory Hotel and Residences. Because my stay was absolutely everything, I decided my experience was worth sharing. So, what was so special about the W Dallas Victory? Well, a few things stood out, including the customer service, amenities, and the actual accommodations.
Customer Service
The W Dallas Victory provided by far the best customer service I have ever experienced at a hotel. It didn't start when I walked through the door. It actually started prior to my arrival when I received a welcome email from Frank Everet, the W Dallas – Victory's Insider, several days before my arrival. In the email, Frank provided insider information about the property, things to do in Dallas, details about check-in, and essentially told me they were available to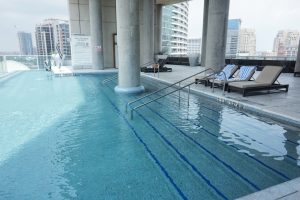 assist 24/7. Frank even asked if there was anything he could do to make my stay more memorable. The email was extremely personable and friendly, and the first of its kind that I received from a hotel.
In my response (which was sent after my flight landed) I might have mentioned traveling to Dallas to celebrate my birthday and needing an early check-in. Within minutes I received an email that informed me that my room was ready and also included suggestions for celebrating my birthday. Not only that, Frank was there to greet us at check-in, and the hotel staff was extremely friendly and knowledgeable about my stay. There wasn't one person, including the bell man and front desk staff, who didn't wish me a happy birthday. And once I made it up to my room I had a birthday gift and hand-written note waiting for me. The gift included birthday hats, a wand, bandana, emergency kit, and more. Tucked away in the note were drink tickets that could be used at the Living Room (the hotel bar) or Cook Hall (the hotel restaurant).The superior customer service continued throughout my entire stay.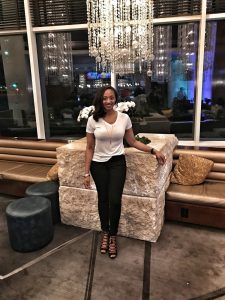 Amenities
With a nice hotel, comes nice amenities, which might include a spa, bar, club, superior dining and more. You have so many options at your disposal, you don't have to leave the hotel for entertainment if you don't want to. In my opinion, hotels have some of the best restaurants. With my favorite meal being brunch (mainly because it's breakfast with mimosas), I know I'm always in for a treat at a nice hotel.
Brunch at the W Dallas Victory's Cook Hall restaurant was a-ma-zing! If you like mimosas, you'll be in for a treat because they have specials on Saturday and Sunday (which could save you cash in the long run). In addition to the restaurant and bar, the W Dallas Victory has an infinity rooftop pool and a Bliss Spa onsite.
Hotel Accommodations
As far as the actual hotel accommodations are concerned, it's all in the details. From the décor, to the courteousness of the staff, to how comfy the rooms are, it's all the little things that come together to make the experience. For example, have you ever gone to sleep at a hotel and gotten up with a backache or neck cramp? Well, it could have been due to the mattress or pillows, and that can instantly turn into a trip gone wrong. At most 4 and 5-star hotels, the linens are superb. The W Dallas Victory didn't disappoint in this category either. The linens were perfection, and I woke up feeling like I had an amazing nights rest.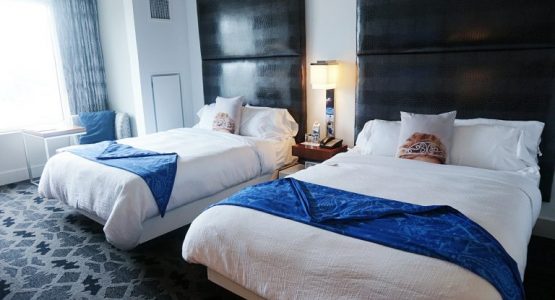 For me, it's all about the vibe, and chic décor gets me every time. Of course, you can select a hotel with décor to your liking. If you want modern, go for it. If you want a boutique feel, have at it. Essentially, the options are endless. But the one constant is you'll absolutely be in love with the atmosphere.
The title of this post is a little facetious as I'm by no means suggesting you blow your entire budget on hotel accommodations. I'm particular about thread count; I appreciate exceptional customer service; I like amenities; I want to stay in a prime location, and that usually comes with a price. So, if you are in a position to go with a higher rated hotel, you should go for it because it's worth it and you're worth it. Of course, this isn't a one size fits all approach and no hotel is exactly alike. Additionally, there are lots of variables when determining why one hotel is better than the other, and some of it comes down to personal preference. But if you want superior customer service along with nice amenities and accommodations, make the hotel the absolute last sacrifice you make. Can you have a wonderful experience at a 2 or 3-star hotel? Of course you can. But if it comes down to a higher rated hotel and lower rated, my advice is to select the higher rated if you can.
Thank you, W Victory Hotel for providing me with inspiration to write this post, and thanks for truly understanding the meaning of customer service. And to my readers, if you're ever in Dallas, the W Victory Hotel is the move.