Ann Taylor Summer Collection for the Win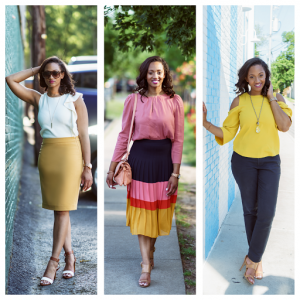 Summer is finally here! Yay! And even though I have a closet full of clothes, with the new season, my wardrobe needed a slight update. Now, I typically try to purchase staple pieces that transition well from season to season and aren't too trendy that my wardrobe frequently requires a major overhaul. I sprinkle in a few trendy pieces here and there that coordinate well with pieces I already own and to keep my wardrobe fresh.
So with that in mind, I set out to purchase a few pieces that would coordinate well with items currently in my closet. I headed to the mall to stop by my current go-to store, but before I got there I decided to make a pit stop at Ann Taylor (Ann is one of my go-to stores as well but it had been out of my rotation for a little while). Luckily I did, because their current collection is everything, and I found exactly what I needed for my slight update, plus more. Ann Taylor summer collection for the win! And because I loved the pieces I purchased, I'm highlighting a few of my favs.
White Ruffle Top
Let's start with the white ruffle top. To be completely honest, I wasn't on the romantic top train when they initially made a come back last year, but as time has passed my perception has adjusted a little more in their favor. The ruffle on the top pictured adds a little flair without being too flashy, and the top itself is extremely versatile. You'll probably see me pair this top with several looks. In this photo, I paired the top with a pencil skirt I already owned. The good thing about this skirt is it transitions from season to season .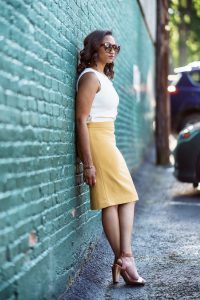 Yellow Cold Shoulder Blouse
If you've seen my Instagram page, you know I was on the fence about where/how to wear this yellow cold shoulder blouse. Is it okay for business? It is more of a weekend look? Can it transition easily to both!? Since cold shoulder tops are everywhere you turn now and because I consider Ann Taylor a brand aimed at professional women, I assumed it was meant for the workplace. But I still wasn't sure if I could pull this top off at work or if I should save it for the weekend. Well, I tried it at work and felt pretty comfortable (I also didn't get any crazy looks). Yet, I'm thinking I may save it for weekends going forward. However, if you work in a relaxed environment you may be able to pull it off without a hitch.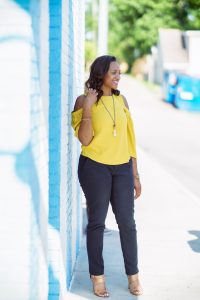 Colorful Flounce Skirt
When I walked into the store my eyes were immediately drawn to a brightly colored stripped pencil skirt (of course I grabbed it to try on), but when I saw the flounce skirt I put the pencil skirt back and picked up the flounce skirt instead. The flounce skirt isn't my typical go-to silhouette, but it's something about the pattern that's mesmerizing. The movement and flow of the skirt are also enamoring. I think it would look good on just about any body type. I also picked up this shirred blouse at Ann Taylor and knew it would be a great addition to my wardrobe. It can be paired with many other pieces as well and easily transitions from work to weekend.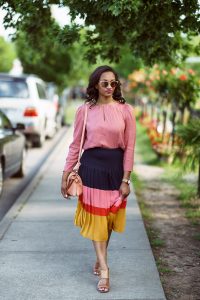 If you're looking for a few new work pieces to incorporate into your existing wardrobe, or if you're looking for a few pieces to go from work to weekend, Ann Taylor's Summer Collection is a great place to start. Just a heads up, a few pieces may have been late spring/early summer items, but I checked the website and they're all still available.
Thanks so much for reading! If you like these looks or have other recommendations for summer work wear, drop a note in the comments!
Photos by Anthony Ferrell