RH Nashville, The Gallery at Green Hills
With retail as we know it disappearing before our very eyes, it's no longer a surprise when a store closes its doors permanently. And physical expansion is almost unheard of these days. Yet, despite the online push, there's at least one brand revolutionizing physical retailing. I recently toured the new four story, 70,000 plus square foot  Restoration Hardware in Nashville, and in my opinion, it is defying trends in retail and taking Nashville to new heights.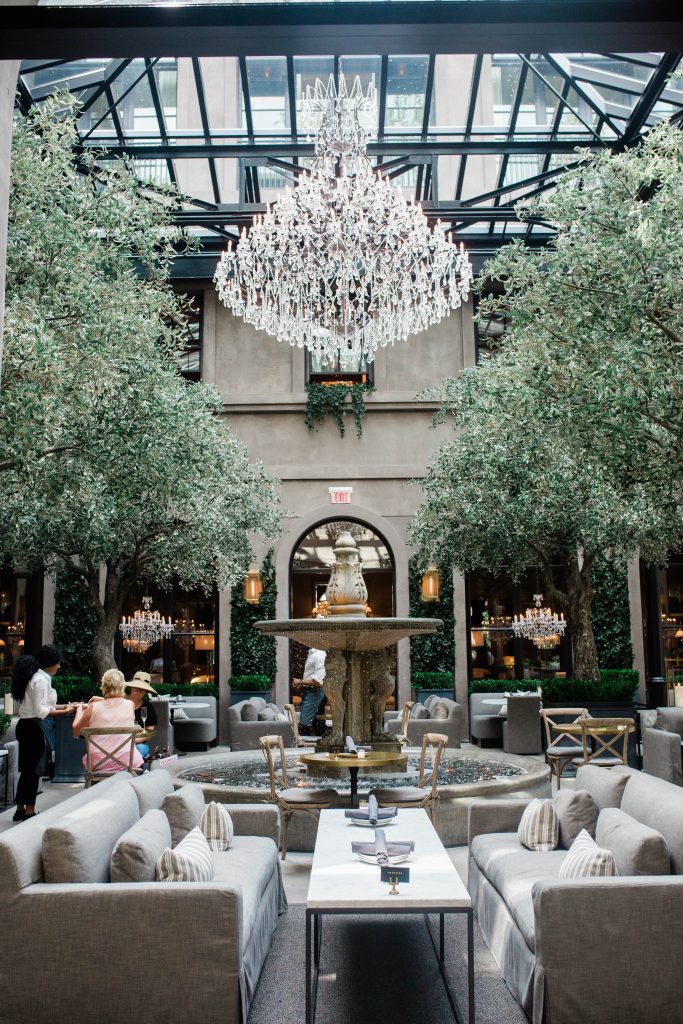 RH Nashville, The Gallery at Green Hills marked the latest physical expansion of the RH brand. Somehow the brand has channeled the ultimate consumer experience by creating just that: an experience. The RH Nashville Gallery, appealing to each of the five senses, is an immersive experience. The aromas of the restaurant fill the Gallery. Guests can invigorate their taste buds and enjoy a culinary experience by stopping by the dining area which includes a coffee bar, restaurant, and wine bar. Melodies created by the fountains fill the air waves. Guests are invited to delight their sense of physical touch and truly envision themselves in the space by testing the onsite collection of furniture, finishes, and fixtures made of rich textures, fabrics, leathers, and finishes. All this while surrounded by beautiful pieces of art, furniture, sculptures and more methodically placed and carefully curated to create a visual experience within each collection and throughout the Gallery as a whole. Each floor feels like a world of its own, yet the entire Gallery maintains a cohesive feel.
[envira-gallery id="115772″]
Of course, certain industries lend themselves better to brick and mortar. With furniture, purchasing online can be hit or miss. With the exception of receiving a sample, there's no way to feel a piece of furniture or get a true sense of what it would look like in a space. Yet, even so, the RH galleries are in a league of their own when it comes to the consumer experience. Whether you're looking for inspiration, want to be surrounded by an enchanting atmosphere while grabbing a bite to eat, are looking to make a furniture purchase, or want a designer to help complete your space, RH has something for everyone. And from my experience, even if you're just browsing for inspiration, the salespeople aren't pushy or invasive, but at the same time they check-in to make sure you're finding everything okay.
RH Chairman & CEO Gary Friedman said it best: "RH Nashville reflects our ongoing quest to revolutionize physical retailing by seamlessly integrating food, wine, art and design. We don't build retail stores. We build inspiring spaces that blur the lines between residential and retail, indoors and outdoors, home and hospitality – spaces that activate all of the senses, and cannot be replicated online."
If you're not in the Nashville area, no worries. RH galleries are present across the country, including, New York, Chicago, Atlanta, Portland, Seattle, Denver and more. A full list of stores can be found here.
Photos by Authentic Photos and Designs.