The Patched Denim (or not so denim) Jacket You Need This Fall
This fall I have an obsession with patched denim. Okay… so it actually started before this fall, but after scouring the market for a patched denim jacket, I ended up empty handed. Either the shape of the jacket was off, or I just didn't like the patches. I even thought about DIYing it, but quickly abandoned that idea in the interest of time and the thought of ruining a perfectly good denim jacket.
Then scrolling through my Instagram feed, a patched denim jacket caught my eye. It wasn't the type that was mass marketed, but rather custom made by Rachel Nicole, the creator of patchwrk. Launching October 1, Rachel happily agreed to chat with me about what she has on the horizon.
So, I mentioned denim jackets, but you're not actually limited to jackets. What else do you patch?
I can patch almost anything, to be honest. Most of my requests are for custom patched denim jackets, patched denim jeans, button down shirts, hoodies, and hats. My most favorite canvas to work with is camo… I've had the most fun patching camouflage jackets. In my mind, camo is the ultimate neutral and it always sets the perfect backdrop for my playful creativity.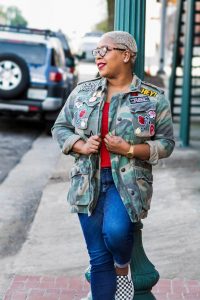 What's the most uncommon thing you've patched, why, and how did it turn out?
So far, nothing just yet. *knock on wood* I know it's brewing and I'm ready to be challenged.
How customizable are your pieces? Do you provide the clothing and patches? Do you leave that up to your client?
patchwrk is as customizable as custom can get. That's really the foundation of the brand and the process goes a little like this: I ask that the client provide the garment(s) of their choosing, briefly fill me in on their idea or concept, then relax and let me work my magic. Those who know me or know of me already know what I represent, fashion-wise, so they pretty much trust that the finished product will for sure be dope.
What inspires your creativity?
I've always been inspired by "street-style". Nothing too trendy but classic, stand-out pieces, that are relatable on a universal level. I also love people who take risks with fashion. Mixing bold colors and funky patterns to create an evenly balanced palette is definitely my cup of tea. You know, I'm all for getting a little crazy when it comes to fashion but my mantra is "less is more". Be sure to make a statement but never seem like you're trying too hard.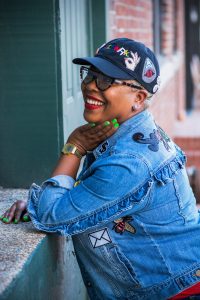 Tell me a little about your pricing. Should I expect a couture price tag?
My focus is to build a clientele of "everyday people". I understand that we're all budget conscious, me included, so the goal is to give you a "couture" look at a reasonable price. Overall, prices start at $50 and can extend to approximately $150. I offer 2 basic options in regards to custom work and the number of patches that actually includes. There's also branded merchandise that can be customized as well. I've decided to offer add-ons which can be applied to either the garments you provide or branded gear that you buy.
How can people reach you?
FB: Patchwrk. IG: @________rach (8 underscores). Order inquiries can be sent to patchwrkme@gmail.com.
Is there anything else you would like readers to know?
Rest assured, this is only the beginning for patchwrk. The demand (OMG!) and the love that I have been shown thus far is nothing short of amazing! I encourage every single person who reads this to take that chance. Even if you have to do it scared. Do it! God will give you the desires of your heart. October 1 is the official go-live date for patchwrk. I'm super excited yet super nervous about it all, but I'm beyond ready… I hope you guys are too!