Feature Friday: Makeup Tips from a Pro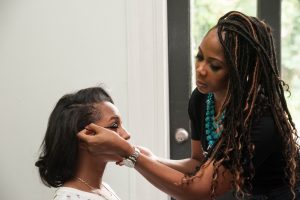 When it comes to makeup, I rarely have mine done by a professional. But every once in a while, it's nice to remove it from my running list of to-dos and leave it to a pro. This month, I'm featuring Tamra, a certified freelance makeup artist, and the creator of Embody Beauty. You may not recognize the name, but if you follow me, you've definitely seen her work. She flawlessly worked her magic behind the scenes for the photo shoot I collaborated on with my blogger girls Thallen and Mariah, and she absolutely slayed all of our looks.
Tamra, thanks for chatting and providing makeup tips. I absolutely loved my look for the shoot, and appreciate that you took time to determine what I wanted in order to capture my polished, kind of natural, "no beat" look with ease.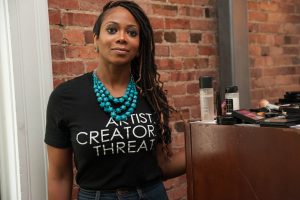 Tamra, let's start by you telling us a little about yourself.
Thanks for asking me to provide makeup tips, and hello to everyone reading! I'm Tamra Hicks, a makeup artist servicing Nashville and surrounding areas. My makeup journey started out simply from me wanting to perfect my eyebrows. Before I knew it, I was looking into foundations and concealers and watching YouTube videos, and my interest grew from there. I'm a self-taught makeup artist fused with additional skills I learned at the Academy of Makeup Arts in Nashville. The name Embody Beauty came from my own daily struggles to represent beauty in my own unique way, fearlessly and freely.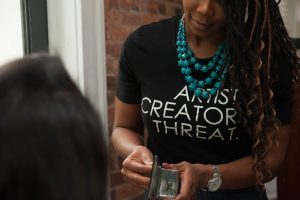 Love! I'm sure putting your own spin on things enhances the artistry and customer experience, and the certification backs up your natural talents. So, about the photo shoot. During the consultation, I mentioned I wasn't really going for "beat." What does beat mean and how does that translate to everyday?
I feel like anyone you ask about being "beat" will have a different definition. For me, "beat" is being flawless. It's having on a full coverage foundation, with some defined contouring and a highlight that airplanes can see! All of that accompanied with eyebrows on fleek and a bold eyeshadow (my favorite is always a smoky-eye).
Ha! Got it! I love my freckles and frequently shy away from full coverage so that's why I went with no beat. Lol. So, I frequently talk about style in terms of clothing, but makeup is also a component of style. With that said, do you consider makeup an accessory to an entire look (in the same sense as jewelry, a watch, hair accessories, etc)?
For me yes, I do consider makeup an accessory to my entire look. I'm a makeup artist, and I like to look the part at all times. I want people to take notice of me in the crowd; this is how I feel I set myself apart. I don't think you can go wrong when you're looking and feeling good about yourself!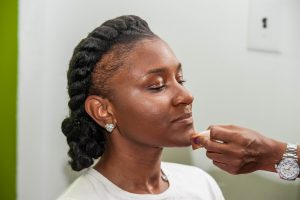 I completely understand. I don't think makeup is required, but it can enhance what's naturally there for sure. Let's talk about an issue I think a lot of people struggle with (especially people of color) and that's getting a true color match. Can you give some makeup tips there?
Color matching can be frustrating sometimes. Especially when you purchase a foundation and get home or go outside in different lighting and realize the color is off. You always want to start with the basics and match the undertone of your skin color. Your skin's undertone is the color underneath your skin's surface. Undertones can be cool (pink, red or bluish); warm (yellow, peachy, golden); or neutral (a mix of warm and cool). MAC Cosmetics tend to have more of a red undertone. Bobby Brown is a good foundation for darker skin tones that might find they always get an ashy look from their foundation. Nars is a water based foundation that is great for warm undertones. In other words, once you find the undertone of your skin go from there.
That's certainly helpful. If you could only give one other makeup tip to readers, what would it be?
Don't be cheap on your makeup foundation. You can be cheap with anything else like eyeshadows or lipsticks but not your foundation. It is literally the "foundation" of your makeup so make sure to choose wisely based on your skin type and the type of coverage you want.
Great tip! Is there anything else you would like readers to know?
I just want to encourage readers to live your dreams. If there is something you are truly passionate about and you are great at it, do it! Don't let anyone put a limit on your goals or dreams. Period, point, blank.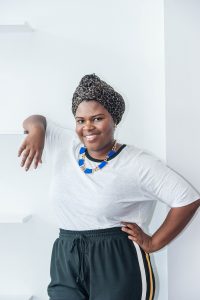 Well, said! I appreciate you taking the time to chat, and thank you for the makeup tips. It's always a pleasure.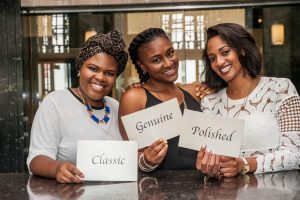 If you want to book with Tamra or more info, please follow her on Instagram or visit her website. If you're curious about the cards above, find out more here. And of course, we'd love to hear your thoughts about this post in the comments.