Gentleman's Box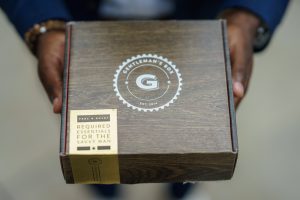 If you're like me, you love most things that make life simpler and more cohesive. And when it comes to getting dressed, coordinating an outfit, or staying up-to-date on the latest trends, a subscription box may be just the right thing to help you curate a spectacular wardrobe with ease. So, with that said, insert Gentleman's Box. It's one of my fav subscription boxes and, ironically, it happens to be for gentleman. This week I've partnered with Gentleman's Box to give away a box to one lucky reader (be sure to read until the end). I also enlisted my friend and guest blogger, Mike, to help me out with the review.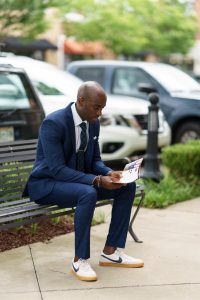 Before Mike jumps in, let me tell you a little more about why I like Gentleman's Box. First, it's such an awesome gift idea! From dad to bae (or yourself), the guy in your life is sure to love it! I've gifted it myself with rave reviews. Additionally, I like that it is perfectly curated; offers a variety of men's essentials and accessories; and orchestrates a winning combination of style inspiration, insightful tips, and the element of surprise. But enough about what I think, let's hear from a true gentleman.
GENTLEMAN'S BOX REVIEW
Hi readers, Mike here. Before receiving the August Gentleman's Box, I had heard of it from Malaka, but I did not know much about it. The small box arrived on my doorstep and my expectations were minimal, BUT when I opened the box my first thought was "this shit is dope!" But seriously. Ha.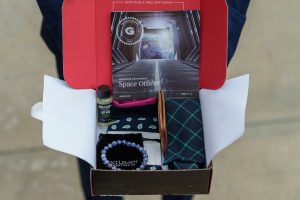 I was totally blown away by the amount of items in the small box: a tie, pair of socks, beaded bracelet, wallet, face wash, and The Gentleman's Post (a small magazine that offers tips and is broken down into three parts: look good, feel good, and be good). I was even more surprised that I liked each item!
The tie is awesome. It is blue and green and will compliment almost any color suit, and it is also strong enough to stand on its own without a suit. The socks are the exact same color as the tie with a few splashes of pink thrown in very subtly. The beaded bracelet is a nice light blue and can be paired with other black or brown beaded bracelets. The wallet is brown, made of leather, and the perfect size. It is small enough that it will fit comfortably in your jeans or slacks, but not so small that you can't fit anything in it. Also, you can tell the wallet is durable and won't fall apart in few months. The face wash smelled amazing and is made with aloe, geranium, and coconut. I'm not a dermatologist, but those sound like good ingredients to me.
There are a few things to note about the box, but it all boils down to personal preference and comfort level. For example, for this box, the tie and socks match exactly; I would probably wear them separately. However, the good thing is you have lots of options when it comes to how and when you wear everything included in the box. Additionally, the "style inspiration" could be very useful for gentleman who could use help coordinating different pieces, but as you get more comfortable and collect more pieces, feel free to use your creativity! Mix and match the items you receive with other subscription items and other things you own. At the end of the day, enjoy it and have fun with it!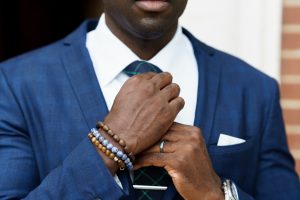 Overall I think the Gentleman's Box is great, and I would recommend it to anyone. It has to be exciting to get a box full of high quality items each month that you know you are going to use!
ENTER TO WIN
Want to win the Gentleman's Box for August 2017?! Enter here. The giveaway starts August 19, 2017 at 12 AM CDT and ends August 22, 2017 at 12 AM CDT. For a full list of terms and conditions, please visit the entry form by using the hyperlink above.
,