Fenty Beauty by Rihanna

I tried Fenty Beauty and…. it lives up to the hype. I even had a friend, who I hadn't seen in over six months, immediately ask if I switched makeup when she saw me. Of course, once I informed her about the switch, she let me know she was absolutely going give it a try! Now, I liked the makeup I used prior to Fenty Beauty, but wanted to support Rihanna, and because the makeup line was created as a line for all skin tones, which is major!
So, let me give you a quick overview of my skin: my skin is what I would describe as pretty normal. I don't have acne prone, oily, or dry skin. However, I do have very sensitive skin. So, I'm very careful about the products I use, and I try to make sure I'm not using something that will cause an allergic reaction.
Well, I've been using Fenty Beauty for a few weeks now, and I haven't had any issues or breakouts, and it doesn't irritate my skin. It really does exactly what you want makeup to do, which for me is to subtly even out my complexion, give me a nice even, polished look, and highlight my natural beauty.
---
So what products did I get? I purchased Pro Filt'r Soft Matte Longwear Foundation in color 370 (for tan to medium skin with warm undertones); the Pro Filt'r Instant Retouch Primer; and Killawatt Freestyle Highlighter in Ginger Binge and Moscow Mule.
Step one: primer (which I think is absolutely essential). It helps to even out the texture of my skin, creates a smooth effect, and I think it helps the fountain last all day. I use a little: just enough to cover my face. I typically apply with a brush, but sometimes I use my fingertips.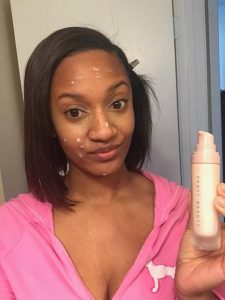 Step 2: foundation. Again, a little goes a long way, and I don't use a lot. Of course this foundation is buildable, so if you're going for total coverage then you may want to apply more. After applying the foundation to my cheeks, forehead, and nose, I use a brush to spread evenly across my face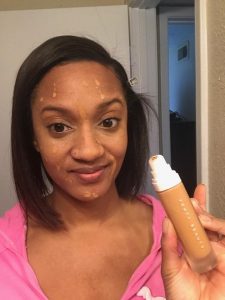 Step 3: highlighter. The colors I selected are more like a blush, and I purchased with that in mind. I apply the Ginger Beige to my cheeks, and I use the Moscow Mule as a highlighter on top of my cheekbones. Ginger Beige is a great color to use on a day-to-day basis. So, I wear it more regularly. I apply the Moscow Mule in the evenings or if I'm going to a special event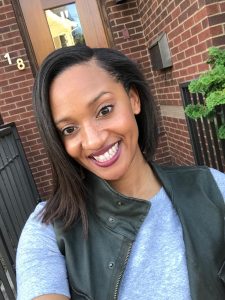 Just a few easy steps, and flawless skin! So, for me the verdict is in… and Fenty Beauty by Rihanna is a definite win. Be sure to go to Sephora and have them match the foundation to your complexion. I thought that was very helpful, and I was able to get a color that completely matched my skin tone the first time. foundation. Again, a little goes a long way, and I don't use a lot.
Have you tried Fenty Beauty? What were your thoughts?