Combining a Coworking Space with Entrepreneur Style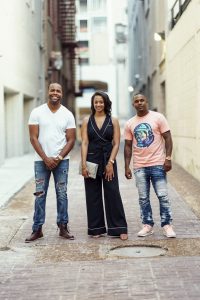 Hi everyone, Feature Friday is back after a brief hiatus, and I'm excited to resurface with an interview with Josh Mundy and Robert Sherrill, co-owners of theLab, a new coworking space opening In Nashville's historic Germantown neighborhood very soon. Josh and Robert are also pretty dapper fellas so the interview is a two-fer and covers both their business and personal styles. And without further adieu, let's jump right in.
Malaka: So Josh, thanks so much for allowing me to interview you for Scales of Style. I assume you've been following the blog and know I incorporate features. I usually open by asking the feature to tell me a little about them. So, tell me a little about yourself.
Josh: Thanks for featuring us! I am a native of Nashville (which you rarely hear people say anymore), serial entrepreneur, father, and husband.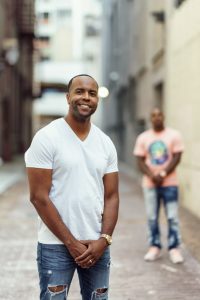 Malaka: I hear most people who live in Nashville aren't from Nashville. I haven't been here long, but I'm sure you've seen the landscape of Nashville change quite a bit. Tell me about some of your business ventures here in Nashville and how they reflect your style.
Josh: I have several companies in Nashville: Music City Cleaners, which is a dry cleaning business located in Germantown; Air BnB Laundry, which provides linen and cleaning services for over 100 properties in Middle Tennessee; ZAM Investments, which does the management and operations for group homes and executive housing in Nashville; and TWC Enterprises, LLC, also know as "theLab," with co-owner Robert Sherrill. TheLab is a co-working space and the latest project Robert and I have partnered on.
Malaka: Awesome! So now that brings me to you, Robert. First, thanks for allowing me to interview you for Scales of Style. Now, Josh mentioned you were co-owners of theLab. Tell me a little about yourself and how you got involved with theLab?
Robert: Thanks for interviewing us! I'm a Nashville native with a huge heart and entrepreneurial spirit – I also own several businesses here in town including, Imperial Cleaning Systems and, of course, the partnership I have with Josh for TWC Enterprises, LLC. I also have a record label and manage recording artists.
Josh and I met three years ago through a mutual friend. From there, we built a solid friendship and eventually started doing business together. After partnering on other business ventures over the years, Josh mentioned the concept of a coworking space and asked if I wanted in. It was a no brainer for me.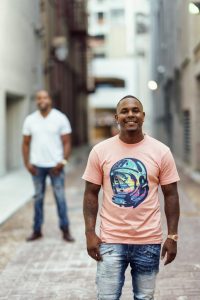 Malaka: So dope to learn about your connection, different business ventures, and how your coworking space theLab came into existence. Shifting gears slightly, tell me a little about your style. Josh, how about we start with you.
Josh: My current style is hat backwards, joggers, sunglasses, a pair of Jordans, and a graphic t-shirt.
Malaka: Robert, what about you?
Robert: I would describe my style as stay on the go fresh. So, whether I'm meeting a potential client or meeting and managing artists, my gear is very versatile!
Malaka: I'm sure there are days when you go from one meeting, business, event, etc., to the next, how do you dress for three different places?
Josh: I'll take that question. The funny thing is I don't change clothes. I have been in business for myself for over 13 years so I am pretty confident in what I bring to the table. I have closed my biggest deals in gym shorts and a t-shirt. In this current more relaxed environment, being overdressed, and more importantly, not authentic, can kill a deal faster anything. More and more people are rocking a nice pair of jeans and button down shirt rather than a three piece suit. Of course, it also depends on the prospective business arrangement, so I do take that into perspective as well.
Malaka: That's very interesting. I usually veer toward business attire, but I can completely understand in today's market, especially for entrepreneurs, that being overdressed isn't always the best move, and it's more important to be yourself. Robert, since Josh took the last question, let me direct the next question to you. It seems like you and Josh have different styles, how would you describe the difference?
Robert: Josh and I are like ying and yang! I like to wear jewelry; he doesn't. I like to wear designer everything; he doesn't. I have tattoos; he doesn't. The list goes on. But that's why we work so well together in business. Both of our styles are different, but they compliment each other.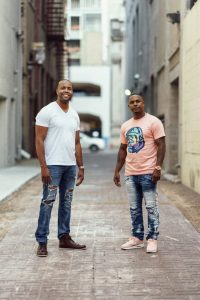 Malaka: Got it! I imagine you both have pretty busy schedules. Josh tell me how you find time to shop? And if you could only shop at 2 stores, what stores you would choose.
Josh: My shopping is very random, and I really have to be in the perfect mood to do it. So, I like to piece outfits together. I may find jeans at one place and a shirt at another place. I'm not really into brands and would rather wear my friends brands, like Appealed Design, or one of my favorite shirts, which is my SpreadLuv shirt. Shout out to Brian Sexton! My number one go-to spot is H&M! It always have a good selection, and it never really disappoints!
Malaka: I see you supporting other entrepreneurs in the community! Nice! So, tell me a little more about your latest venture, theLab.
Josh: TheLab concept was developed three years ago. I always wanted to create a coworking space where creatives could develop concepts and bring dreams to a reality. So, we started seminars via the Winners Circle 2 years ago and from there, the space I had my eye on became available, and the rest is history!
Robert: It's located in historic Germantown. We will offer shared work space as well as entrepreneurship workshops, mentoring, collaboration sessions, print services, free Wifi and much more! Rates are very reasonably priced with unlimited monthly work packages starting out right under a hundred dollars.
Malaka: Last question: Who are your style influences?
Josh: I'd have to say a little of (old) Kanye mixed with a little Kevin Hart and Diddy.
Robert: My style influences would probably be Daniel Huggins and T.I.
Malaka: Cool, I can definitely see those style influences in both of you! Thanks again for chatting with me. I look forward to seeing more of your style and what's to come with theLab coworking space in the future.
Thanks to everyone for reading! Feel free to comment below with your thoughts on the feature, and be sure to subscribe to receive updates on Scales of Style!