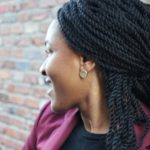 "I've always loved reading and writing. I was in a short story contest in 3rd grade and I think I got 2nd or 3rd place. Ever since then, I figured I would either read or write for a living." – Mariah
Feature Fridays are back, and I'm really excited about the features I have lined up this month! In honor of black history month I'm intentionally featuring black history makers in my Feature Friday posts. First up, I have a fellow blogger, lawyer, and advocate. She's a great writer, and happens to be using her skills to acknowledge and celebrate the contributions of black people this month (in this country and abroad) through a collection of poems.
Interview with Mariah
After thinking through several concepts, I was really inspired to incorporate black history markers into the blog. While brainstorming about the concept, I almost instantly thought of you. So on that note, tell us a little about yourself, what you do, and your blog.
Thanks for thinking of me! I'm Mariah. I'm a southern girl from Mississippi, which probably explains a lot about my perspectives on the world. I grew up in Oxford, MS and went to undergrad there as well. I moved to Little Rock, AR for law school and eventually settled in Nashville where I think I'll stay for a while.
I'm the Director of Program Management in the RWJF Center for Health Policy at Meharry Medical College. I sort of fell into this role, but it fits my commitment to serving underserved populations, especially communities of color. I think I was put on the earth to advocate for people who have been marginalized and disenfranchised. I don't know how that will continue playing out in my life, but I'm excited to find out.
My blog is called Out of My Mouth. The name sort of derived from the Proverbs 31 scripture, "She openeth her mouth with wisdom; and in her tongue is the law of kindness." It's an inspirational and creative writing blog with heavy faith based undertones. I write about things I'm thinking about and things that help me make it through life. I also talk about current events. The creative writing part is something I've been developing more and more lately. Maybe it'll turn into a novel. That's the goal. I started it back in 2011 under a different name, but it has morphed into something that really represents me well.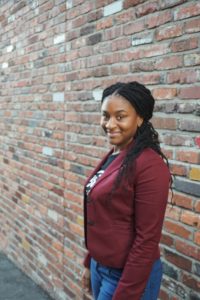 When I asked to feature you, what were your thoughts?
My immediate thought was "OMG, what will I wear?" Ha! I'm not the biggest fashionista, but I was definitely flattered and didn't hesitate to accept the invitation for the feature. And while I'm not super into fashion, I love your blog and admire the work you put into it. It's very cool to collaborate. Black Girl Magic and alldat. Lol
You're a really good writer. How did you get started? Do a lot of your writings have an African American focus?
I've always loved reading and writing. I was in a short story contest in 3rd grade and I think I got 2nd or 3rd place. Ever since then, I figured I would either read or write for a living. I was an English major in undergrad, and I loved it. It was a natural fit for me. The only problem was that I couldn't imagine a life for myself that included reading and creative writing so I did what every confused 21 year old does – I went to law school. The blog has been a way to get back to what I originally loved.
I'm not sure if my writing mostly has an African-American focus. Probably. I write what I know and I know being black. So yeah, probably.
Name one African American you look up to or who has inspired you in some way and tell us how.
All black people inspire me. We have been and continue to be one of the most discriminated against race of people in the entire world yet we continue to be trend setters and influencers. We have always found ways to cope and even to thrive. If that's not inspiring, I don't know what is. I'm so proud of us.
In one word, describe your style.
Uhhhhh…. Cutesy? Girl, I don't know.
I'm really feeling your shirt, and it obviously makes a statement. What does it mean to you?
Well, my best friend got it for me so it has sentimental value. I love it if for no other reason than the fact that she got it for me. It's also a reference to a D'Angelo song. Basically, it means to me that I'm brown and cute and sweet. Lol
If I were to ask someone who knows you well, what would they describe as your staple piece?
My smile. Or maybe my side eye. Whichever is most appropriate.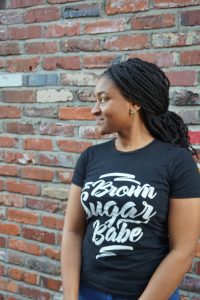 If you could only shop at one store, what would it be?
This year I've made a commitment to only buy clothes from second hand stores or black owned businesses. If you had caught me just a few weeks ago, I would've said The Limited.
Is there anything else you want to let us know about what you're doing?
So I'm super engaged with the Urban League Young Professionals of Middle Tennessee. I serve as the Vice President and have found it to be one of the best ways to weave advocacy into the fabric of my life. It's just a part of who I am. I would love to see more people our color and our age engaged in similar activities. We don't have to sit by and watch the world unfold around us. We can be a part of what happens in our communities and in our country. You can express it through your volunteerism, your profession, the ways and places you spend your money, and even your style. I think your Black History Month features are a perfect example of that.
How can people find you?
You can find me at outofmymouth.com or on Instagram @outofmymouth.