Father's Day Gift Ideas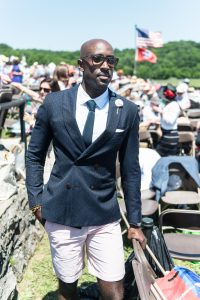 One thing I noticed is that people usually go all out for Mother's Day.  They plan months in advance, relatives come from out of town, thoughtful cards are given, but for some reason that's not the case for Father's Day.  When it's time for Father's Day it usually includes last minute shopping and terrible gifts.  Being a father, and a son who gets dope Father's Day gifts for my dad, I'm very well-qualified to help you decide what you should get your father, if you still haven't figured it out. And I have provided a couple Father's Day gift ideas that are sure to be a hit.
Gift Idea #1: The Tie Bar
What to grab:
If you are going to select only one tie, I would recommend the solid blue silk net tie.  You need to start with the blue because you can wear it with basically anything.  Now the material (silk) is trickier but allow me to explain why that is a good choice.  Here in Nashville, TN, it's hotter than Satan's taint outside and the wool knit tie would just make it even hotter.  You can double back around Christmas and grab the wool knit tie if you or your dad just can't live without it. You can find this Father's Day gift idea here.
Also, check out the tie bars.  I suggest getting your dad one of the silver tie bars with some character.  A few of my personal favorites are the glasses, anchor, handlebar mustache, and oxford shoe. Tie bars can also be found here.
Gift Idea #2: Topman
What to Grab:
Topman has a ton of great things, but please don't get distracted. Go straight to the accessories section and look at the bracelets.  Unless your dad is a professional athlete, it's time out for the rubber bands and athletic bracelets.  The beaded or braided bracelets are perfect for anyone and you can get them in black and/or brown. Find these Father's Day gift ideas here.
Gift Idea #3: Kate Spade
What to Grab:
If you are anything like me when you hear Kate Spade you think about your wife going there to spend money, but they have things for men too.  Good things!  One of them being the "Dipped Industrial Canvas Slim Brief".  It's the perfect Father's Day gift because your dad secretly hates the company issued computer bag he's been carrying his laptop/work papers in.  Not to mention this bag tells says a lot about the kind of person you are.  The sleek blue material at the bottom of the bag says "I'm stylish enough to rock a bag from Kate Spade", but the canvas at the top says "don't let this bag fool you, I can still take it back to the streets if need be".  It's the perfect blend.  Find this Father's Day gift idea here.
Gift Idea #4: Marked IV Life
What to Grab:
Marked IV Life!!!! Tattoos have become increasingly more common and acceptable in the work place, but bad tattoos are never acceptable anywhere!  There are tons of dad's out there with their child's name on their skin and there are some that just have a ton of tattoos.  Regardless of what the tattoo is, it is important that the tattoo stays fresh.  Stop buying your guy facial products that he is never going to use.  If you just have to buy him skin care products buy this tattoos care kit.  He will thank you for it. You can find this Father's Day gift idea here.