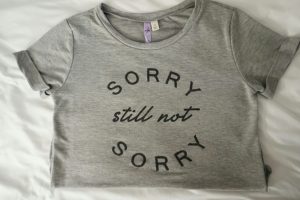 What to Wear When…
Chillin' Out Maxin' Relaxin' All Cool
One of my favorite things about the weekend is kicking back and relaxing, and often times my weekend wear reflects just that. So for this look, as relaxed as my mood was, I reached for my Air Jordan 1 Retro High Tops; sorry still not sorry tee; and distressed black jeans.
And today I'm happily serving the outfit deets. Let's start with the top: I stumbled across it recently at Francesca's while exchanging a Christmas gift (totally realize we're at the end of January…. but I'm somehow still settling Christmas, lol). The tee just so happened to be the first thing I saw walking in the door so it made for a super easy exchange. And the jeans are a fav pair from Express and are in constant rotation.
Switching over to shoes, these J's are one of my favorite pairs of sneakers. Not only are they comfy, but they practically go with everything. I originally purchased them summer '16 for the Kanye concert (because I wasn't in a standing in heels kinda mood), and even though they're a frequent flyer (as far as my sneakers are concerned) they're still in great condition.
So, you've now experienced my weekend wear. And it can be summed up in the words of Will Smith "chillin' out maxin' and relaxin' all cool." I love the feeling of being comfortable. If you ever catch me out and about, you'll probably find me in a t-shirt, ripped jeans, and sneaks about half the time (I switch up the footwear).
If you want a casual look, with a hint of edge, and a splash of cute, these three pieces are an easy go to:
Statement/graphic tee
Distressed Denim
Sneakers (or comfy shoes)
I would love to learn more about your style. What's your go to cute casual look? Let me know in the comments below.