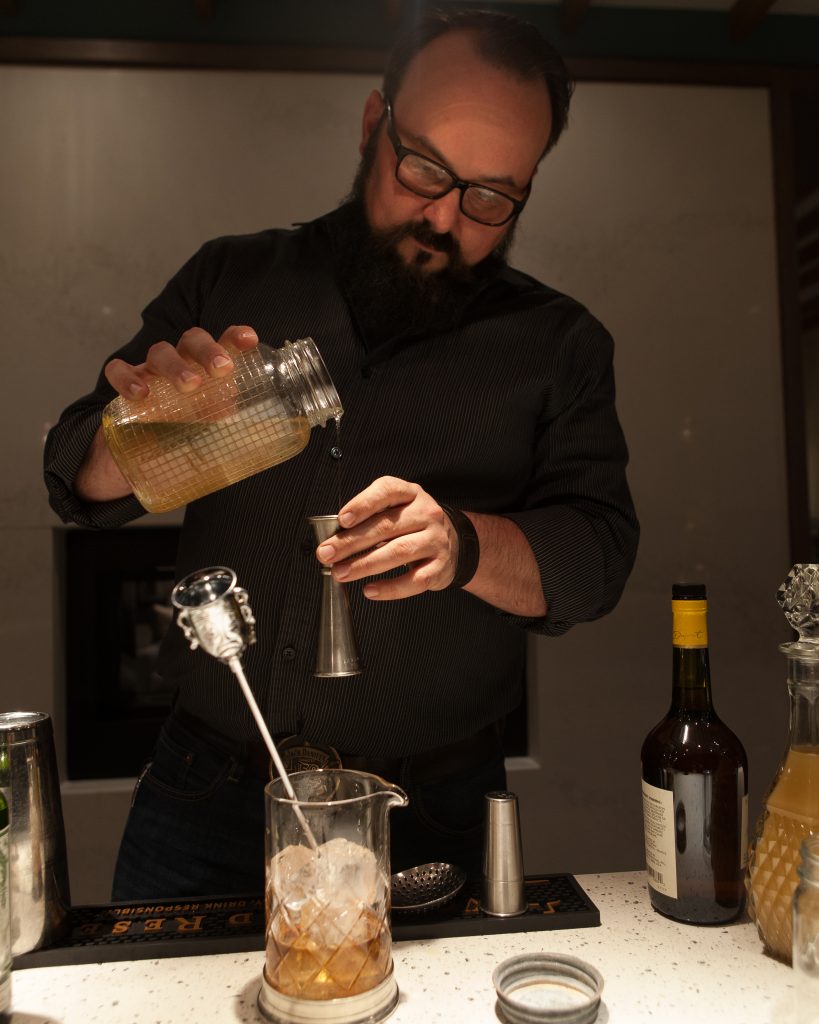 The holidays are here and amidst the hustle and bustle of the season, it's a time to relax and unwind in the company of family and friends. In addition to good people, creating a picturesque holiday requires the company of good food and good drinks. My November feature covered the food. So, it's only right that my feature this month cover holiday cocktails. Keep reading and my December feature, an absolutely fabulous and experienced bartender, will have you mixing a recipe for holiday party success! Be sure to read to the end of the post to get recipes for three holiday cocktails!
The Drink Whisperer
My Feature for the month of December is Zachary Helton (also known as the Drink Whisperer). Zachary is a bartender aficionado who I had the pleasure of meeting at Nashville Lifestyle's 2017 Bartender Bash . There were lots of entrants in the competition, but for me, Zachary's cocktail stood out among the crowd (I'm not the only person who felt that way because Zachary, and his craft cocktail, took home the prize).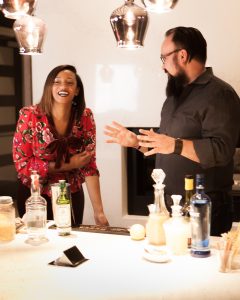 So, what made his drinks so special? Well, it wasn't just one thing. It was a combination of the flavors, the knowledge he dropped about everything from how the cocktail was mixed to the local ingredients used, his attention to even the smallest detail, and his overall presentation. Fast forward, I thought Zachary would be a great feature this month. So, I invited him over to get to know more about him, and I asked him to mix up some holiday cocktails while we chatted.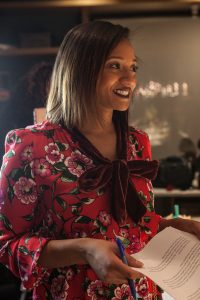 Zachary, thanks for allowing me to feature you. Tell us a little about yourself.
I'm Zachary Helton. I've been bartending in the Nashville area since 2000. My best friend Ricky Meyer got me my first bar gig at TGI Friday's in Hickory Hollow. Our little store had 4 amazing bartenders, and I picked up a lot of lessons from them that I still carry with me today: showmanship, accountability, personality, competitiveness, trust, speed, drink knowledge, and technique.
How'd you get the name the Drink Whisperer?
My friend Nick Delorenzo (now known as "Nicky Booze") came up with "The Drink Whisperer." I have a very loud voice, and I'm a very good listener.
"Most people will tell you exactly what they're looking for in a cocktail. It's our job as bartenders to put all those clues together to make them the drink they really want."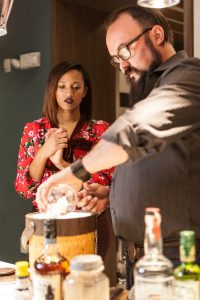 Let's talk a little about your style before we shift to holiday cocktails. Okay, so style: describe your style in one word.
Classic.
Is your classic style reflected in your bartending?
Very much so. My fiancé , Embi Ferro, and I own an antique and decor business called, Vintage Patina House in Franklin, TN. Something about the history and the past has always sparked my interest. There's a real beauty in classics, whether its fashion, furniture, or drinks. Knowing and studying the past, will give you an advantage when trying to create something new and special today.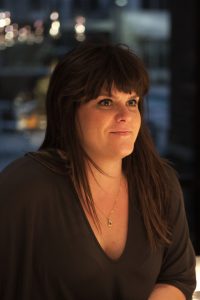 I love that answer and so agree with it. When you think about the holidays, what cocktails come to mind?
Three drinks mainly: bourbon old fashion, the gin martini and apple cider. All can be made quickly with very little work involved which is perfect because I can get back to sitting around with the family talking and enjoying each others company, not spending all my time making drinks.
I am lucky enough to be in love with the woman of my dreams. It took me forever to find her though, but I did. We do everything together and work side by side every day and night working both our antique business and The Drink Whisperer. So we try to relax around the holidays. Our holiday menu is full of naps, family, booze and food.
What about these drinks say holiday cocktails to you?
Holidays are all about family. These classic cocktails really remind me of that. Whether it be drinking a nice, clean Old Fashion by the fire while listening to family play music or stirring a Gin Martini for Embi and her father. Sometimes a really low proof Cider to sip on in the morning with breakfast can be a nice way to start your Christmas morning. Cinnamon, clove, nutmeg, oranges, apples, caramel and a little vodka sounds exactly like what the essence of holidays should be.
That's very sweet and sounds like my type of holiday. Tell us about your use of local ingredients. How did you incorporate them into your holiday drinks?
We love to support local. Whether that be with produce, distillers, or liquor stores, staying local does nothing but help our little community in Franklin. For the holiday cocktails, we chose our friend Heath Clark's Gin from H. Clark Distillery located just south of Franklin in Thompson Station. The botanicals and citrus is locally sourced, and it makes one of the best Martinis I've ever tasted. For all my ice and fresh squeezed citrus I use my friend Matt Buttel's company Ice Lab, located in downtown Nashville. His team makes crystal clear distilled ice molds of all shapes and sizes. Another dear friend of mine, Angie Lunsford, is the Brand Ambassador for Old Forester Bourbon which is a great everyday drinking bourbon. We purchased all our liquor ingredients from our friend Lisa Quillmen at The Bottle Shop Cool Springs. As a professional private bartender, they are my biggest asset to success. They help place orders and run tabs for my clients. In turn, when someone is looking for a hard to find spirit no-one has ever heard of I send them to the Bottle Shop because I know they'll have it. So when I think of "local ingredients" I think of people, not just products.
I know you work with some celebrity clients. That has to be pretty cool. Tell us a little about that.
Working in higher-end restaurants like Cork & Cow in Franklin and Fleming's Steakhouse in Nashville, I have been lucky enough to see and build relationships with a lot of the famous faces you think of in Nashville. Music City brings all sorts of entertainers and athletes out on a nightly basis. Everyone has to eat, chances are they're gonna go to the best place possible for that. Luckily for me, I work at the best restaurant in Franklin.
I was able to work a Fourth of July party for Justin Timberlake a few years ago, where I made over 6 different craft cocktails. That year a bad storm hit the party and we had to move right in the middle of the party. Luckily, the way I pre-batch cocktails before the party, I was ready to move and continue the party indoors at another location. Since that day, whenever he comes back home to Leipers Fork, his people trust me to make sure the party is taken care. Working the pre-party the night before for Pilgrimage Festival on JT's property in Leipers was amazing. It was a field party that we set up an entire working bar out of old whiskey barrels, barn doors, hay bells and antique troths as coolers.
The success of some of those events has put me in touch with other celebrities like PK Subban, of the Nashville Predators, whom I'm currently helping source a vintage wine list for his wine cellar in Toronto. Chances are if you're having anything to do with a drink in Nashville, The Drink Whisperer is who you should trust to handle it.
Are there any other projects you're working on that you want to share?
I'm currently working on releasing a line of limited and local cocktail syrups under my label, The Drink Whisperer. Looking closer to spring of 2018 by the time we have everything in stores in Williamson County and hopefully a few in Davidson County as well.
For bookings, how can people reach you?
My social media handle is @the_drink_whisperer on Instagram and Facebook. People can keep updated on things I do there. For private parties or events please connect with my fiancé Embi Ferro at embiferro@me.com. She handles all the booking and paperwork; I handle the booze.
The Drinks Whisperer's Holiday Cocktail recipes are below. Also, check out the video above to see clips of him mixing during the interview. Be sure to let me know your favorite part! Cheers!