Blogger Gal Giveaway: Enter to Win a Nordstrom Gift Card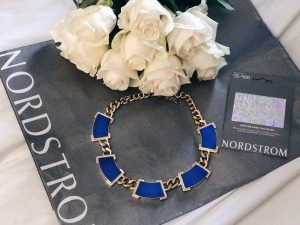 This week I teamed up with a few bloggers gals to host a $250 Nordstrom gift card giveaway! So, what's the occasion?!
It's really just to show appreciation for your support. And on top of that, I think Nordstrom is a pretty dope department store (and I promise I'm not being, nor have I been, paid to say that). So, I know some of you are thinking, Nordstrom, um… outrageous prices, girl bye… But if you don't already know, you'll be surprised to find out, like I was, that Nordstrom offers merchandise across the spectrum from high end to affordable. And one of the best things about Nordstrom, in my opinion, is they have personal stylists who can pull looks for you if you're in a time crunch or if you need help making selections. Be sure to read all the way to the end of this post to enter!
Terms and Conditions:
This Nordstrom gift card giveaway starts July 27, 2017 at 12 AM EDT, ends August 10, 2017 at 12 AM EDT, and is open to U.S. & Canada residents age 18 and older. This Nordstrom gift card giveaway is not endorsed by or in any way connected to Nordstrom. The prize is one (1) $250 Nordstrom gift card to be fulfilled by One Awesome Momma. If One Awesome Momma does not fulfill your prize, no other host blogger is responsible for prize fulfillment. The winner will be selected randomly and will be notified through email within twenty-four (24) hours after the giveaway ends. Please add giveaway@oneawesomemomma.com to your email contacts to make sure you receive the notification if selected as the winner. If the prize is unclaimed after forty-eight (48) hours of notification, we will select another winner. The winner is responsible for reporting the value of his/her prize where required. No purchase necessary. Void where prohibited.
How to Enter:
To enter the Nordstrom gift card giveaway, entrants must complete at least one task ( available via the hyperlink below). The completion of each task is equal to three Nordstrom gift card giveaway entries. Want more chances to win? Complete more tasks. Complete all tasks and unlock bonus tasks. Bonus tasks may be completed daily. The more tasks completed means the more chances of winning the $250 Nordstrom gift card.
Click here to enter. Don't forget to share with family and friends! Thanks so much for supporting Scales of Style and good luck! 😘💖🍀